---
DISCLAIMER: Scouts NewEngland does not support, recommend or have any control over any of the commercial business ads seen on our web site as banner ads or as pop-up windows. They are added by our FREE web space provider Tripod Lycos to help offset their cost of operation.
---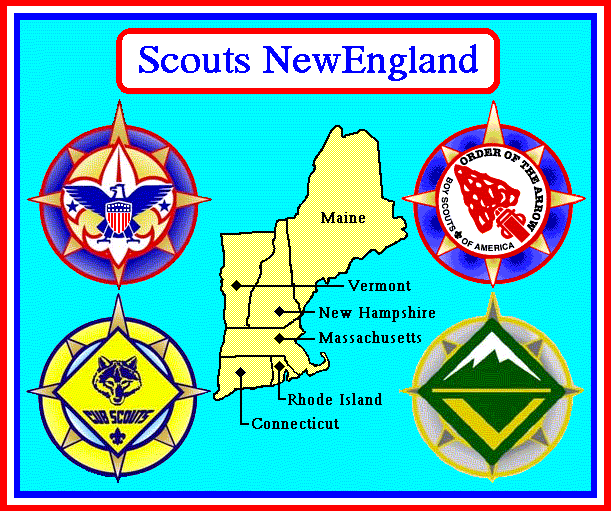 Welcome to Scouts NewEngland (SNE)


Now in our 16th Year of Operation! (1997-2013)

We cover everything Scouting related in the states of Connecticut,
Maine, Massachusetts, New Hampshire, Rhode Island and Vermont.
---
Join our International Scouting E-mail List Group to get the latest Scouting News,
to learn about Special Events, Training Sessions, and much, much, more.
Click HERE to learn more and register.
---
Our Two Web Site Search Tools
---
Our Web Site Index
Click on any UNDERLINED HEADING to view more.
New England BSA Council, Camp and O.A. Lodge Listings
View information on what communities each New England BSA Council serves, find any Council Service Center address, their phone number or FAX number, find out what they have for Campgrounds and Summer Camps, and about their Order of the Arrow (OA) Lodges. All these listings are broken down by individual state. So click on any state below to be taken there.
Links to All New England Scout Unit Web Sites
Outdoor Scouting Resources
Indoor Scouting Resources
Scout and Scout Leader Resources
---
Please, sign our Comments Book when done, Thank You.
Join the Scouts NewEngland Network
Which is our FREE International Scouting E-mail List Group.
---
We'd like to thank Tripod for providing us with our Web Site Space.
To find out how you can get a FREE Web Site, click: HERE
---
This is an Unofficial Boy Scouts of America Web Site provide as a free service by ScoutKing. The information provided by us does not necessarily reflect the policies and or opinions of Boy Scouts of America, Inc. (BSA). This Web Site is a resource that is intended to help Scouts and Scouters learn about Scouting in New England and to help enhance your Scouting enjoyment. It is up to you, the user, how you use it. We can not be held responsible for any loss or injury that may be incurred by you as a result of using the provided information. Remember, if you have questions, always check with your local BSA Council first for answers.
---
Revised 07-8-13

Copyright 1997-2013 - ScoutKing - All Rights Reserved

-------------------- END OF WEB PAGE --------------------
---