---
DISCLAIMER: Scouts NewEngland does not support, recommend or have any control over any of the commerical business ads seen on our web site as banner ads or as pop-up windows. They are added by our FREE web space provider Tripod Lycos to help offset their cost of operation.
---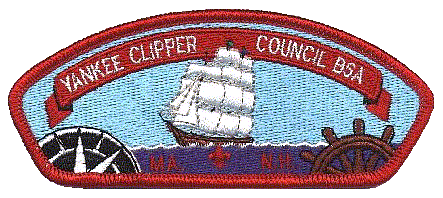 Their Council Shoulder Patch (CSP)
Yankee Clipper Council #236, BSA
Main Office: 36 Amesbury Road, Haverhill, MA 01830-2802
TEL: 1-800-459-0575 (Membership Hot Line)
TEL: (978) 372-0591 - FAX: (978) 373-9134
Branch Office: 189 North Main Street, Middleton, MA 01949-3129
TEL: (978) 777-4333 - FAX: (978) 777-4334
E-mail The Aquila District
E-mail The Greater Lowell District
E-mail The Lone Tree District
E-mail The North Essex District
E-mail The North Shore District
---


Click on any UNDERLINED HEADING to go there.

Council Geographic Area Information

Order of the Arrow Lodge Information
---
---
---
---
---
---
Back to the Top of this page.
Back to the Home Page of Scouts NewEngland.
Please, sign our Guest Book when done, Thank You.
Join the Scouts NewEngland Network
Which is our International Scouting E-mail List Group.
---



Last Revised 03-26-07

Copyright 1997-2007 - ScoutKing - All Rights Reserved

-------------------- END OF WEB PAGE --------------------
---
---