Scouts NewEngland does not recommend any of the commerical businesses shown on the top of our web site.
These banner ads have been added by our free web space provider Tripod Lycos.
---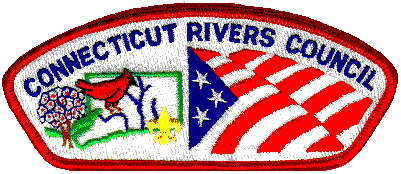 Connecticut Rivers Council #66, BSA

P.O. Box 280098, 60 Darlin Street, East Hartford, CT 06128-0098
TEL: (860) 289-6669 or Toll Free (800) 414-2433
FAX: (860) 290-8860


---


Click on any UNDERLINED HEADING to go there.

---
---
---
---
---
---
Back to the Top of this page.
Back to the Home Page of Scouts NewEngland.
Please, sign our Guest Book when done, Thank You.
Join the Scouts NewEngland Network
Which is our International Scouting E-mail List Group.
---
Last Revised 07-15-06
Copyright 1997-2006 - ScoutKing - All Rights Reserved
---