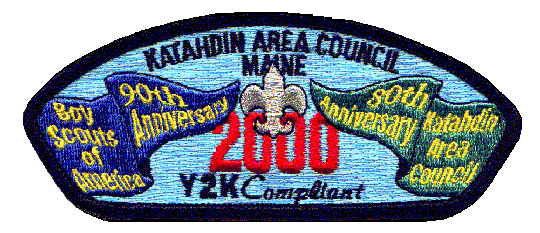 Katahdin Area Council #216, BSA
Physical Address: 90 Kelley Road, Orono, ME 04473
Mailing Address: P.O. Box 1869, Bangor, ME 04402-1869
Toll-Free TEL: 1-800-353-5888 (in Maine ONLY)
TEL: 207-866-2241
FAX: 207-866-3283

---


Click on any UNDERLINED HEADING to go there.
---
---
---
---
---
Back to the Top of this page.
Back to the Home Page of Scouts NewEngland.
Please, sign our Guest Book when done, Thank You.
Join the Scouts NewEngland Network
Which is our International Scouting E-mail List Group.
---
Last Revised 05-14-06
Copyright 1997-2006 - ScoutKing - All Rights Reserved
---
---