---
DISCLAIMER: Scouts NewEngland does not support, recommend or have any control over any of the commerical business ads seen on our web site as banner ads or as pop-up windows. They are added by our FREE web space provider Tripod Lycos to help offset their cost of operation.
---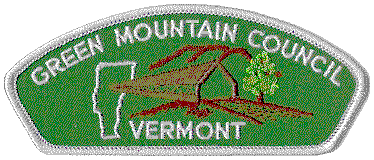 Green Mountain Council #592, BSA
838 U.S. Route 2, P.O. Box 557, Waterbury, VT 05676-0557
Local Tel: (802) 244-5189
Toll Free Tel: (800) 704-3089
Fax: (802) 244-5259
---


Click on any UNDERLINED HEADING to go there.

Council Geographic Area Information

Order of the Arrow Lodge Information
---
---
---
---
---
Back to the Top of this page.
Back to the Home Page of Scouts NewEngland.
Join the Scouts NewEngland Network
Which is our International Scouting E-mail List Group.
---



Last Revised 03-15-07

Copyright 1997-2007 - ScoutKing - All Rights Reserved

-------------------- END OF WEB PAGE --------------------
---