---
DISCLAIMER: Scouts NewEngland does not support, recommend or have any control over any of the commerical business ads seen on our web site as banner ads or as pop-up windows. They are added by our FREE web space provider Tripod Lycos to help offset their cost of operation.
---

Baden-Powell Signed
Boy Scout
Membership Card
---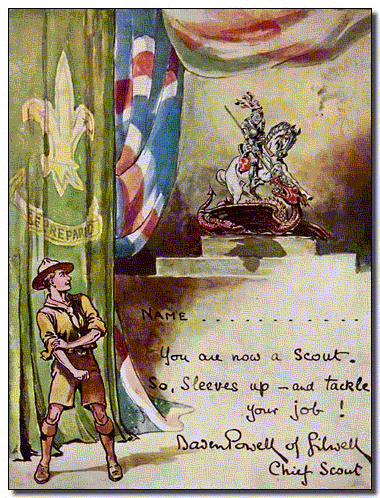 ---
This is an actual Boy Scout membership card signed by Lord Robert Baden-Powell, the founder of Scouting and the Chief Scout of the World. This artwork was created by Baden-Powell. He was a great artist and illustrated all of his own works. With a little knowledge and computer skill you could turn this image into presentation cards for your Scouts and Scouters today. I don't think that Baden-Powell would mind as long as it was used to promote Scouting and not for profit.
---
Back to the Top of this page.
Back to the Home Page of Scouts NewEngland.
Join the Scouts NewEngland Network
Which is our International Scouting E-mail List Group.
---



Last Revised 03-15-07

Copyright 1997-2007 - ScoutKing - All Rights Reserved

-------------------- END OF WEB PAGE --------------------
---
---